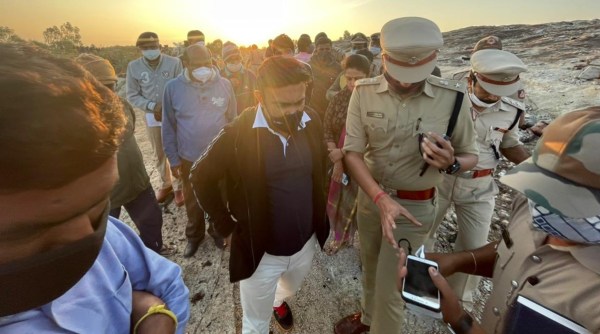 Karnataka Health Minister K. Sudhakar at the spot.
Bengaluru Urban district tops the list of positive cases, with a total of 4,04,628, followed by Mysuru (54,019) and Ballari (39,243). Among discharges too, Bengaluru Urban tops the list with 3,96,274, followed by Mysuru (52,799) and Ballari (38,601). A total of over 1,85,62,530 samples have been tested so far, out of which 68,166 were tested on Thursday alone, and 4,847 among them were rapid antigen tests.
The Karnataka police arrested five people in connection with the quarry blast in Chikkaballapura that killed six people. The government has also suspended two police officials. Among those arrested include Raghavendra Reddy, one of the two partners of the quarry, who was arrested from Anantapur district in Andhra Pradesh. Others arrested in the case are employees linked to the quarry. Meanwhile, GS Nagaraj, the second partner, is still on the run from police.
Here are a few contacts that might come in handy for you in emergency situations:
COVID-19 related queries / emergencies / clarifications: 104 (toll free); +91-80-4684-8600/6669-2000 | Home Quarantine-related queries: Telegram messenger/WhatsApp – +91 97777 77684, Voice call – 080 45451111 | BBMP control room: 080-22221188 | In case of power disruptions, contact BESCOM: 1912. If the water supply is hit in your area, contact BWSSB: 1916